Movex Launch New Products for 2020
12
Feb
2020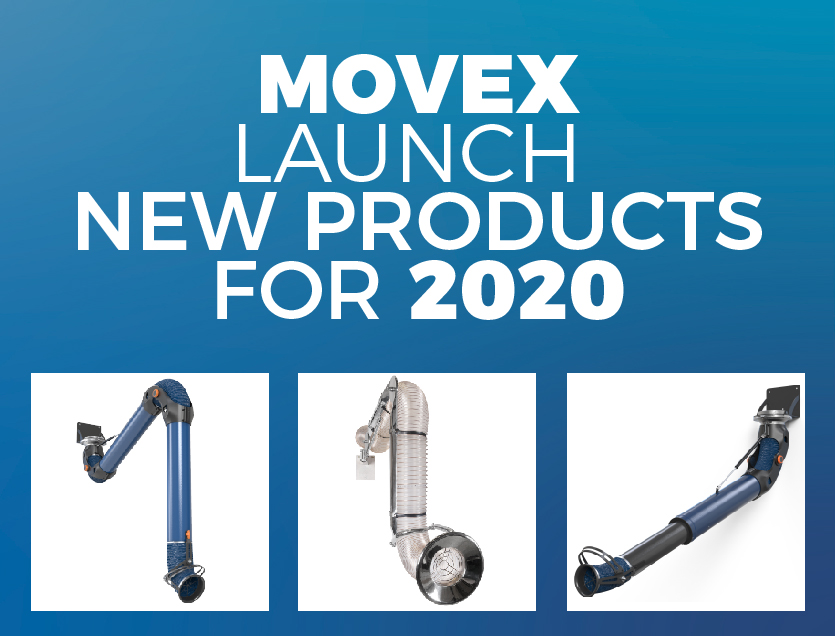 Movex Equipment Ltd is proud to launch three new core products as part of the 2020 product line up. Including in the new product line up is the ever-popular 'New' PRX Tubular extraction arm, the 'New' PTEX and the PSS.




PRX Tubular Extraction Arm

The 'New' PRX is a premium, tubular extraction arm that's ideal for tough, heavy-duty working environments.




The PRX is extremely easy to manoeuvre and offers great positional stability (even when fully extended). A core design feature of the PRX (and all of Movex's extraction arms) is externally mounted linkage joints, which contribute to a 50% lower pressure drop in comparison to extractions with internal linkage systems.




Read more about the 'New' PRX tubular extraction arm here.



PTEX Telescopic Extraction Arm

The 'New' PTEX telescopic extraction arm is compact and flexible and is ideal for confined work areas, such as welding booths and workbenches where space is limited.




The PTEX length can be extended out from 1300mm to 2100mm and features a gas spring to balance the weight of the arm. It can be rotated 360° and angled 90° and the wall bracket has a 360° swivel function. Like the PRX, the PTEX has been constructed using the highest quality tubular materials to reduce pressure drop.




Read more about the 'New' PTEX telescopic extraction arm here.















PSS Stainless Steel Extraction Arm

The 'All-New' PSS is a high-quality, acid-resistant extraction arm that's been comprehensively designed and manufactured out of high-quality stainless steel for stringent sanitary and hygiene requirements, such as the food and pharmaceutical industries.




All surface finishing is from high-gloss, polished stainless steel, whilst the antistatic hose features quick-connectors, which makes PSS the easiest extraction arm to clean in the industry. The PSS has also been designed with the externally mounted linkage joints to reduce any pressure drop and also to minimise the risk of blockages.




Read more about the 'All-New' PSS Stainless Steel extraction arm here.



Movex Equipment Ltd is the UK's leading supplier of dust filtration and fume extraction equipment and we specialise in the distribution of dust filtration and fume extraction equipment to the UK and Ireland's LEV (local exhaust ventilation) market. Our extensive product range covers all working environments where hazardous dusts and fumes form part of the working process.
To find out more about our new products for 2020, or about our existing product ranges, please get in touch with us on +44 1942 909121 for a no-obligation discussion or email info@movex-equipment.co.uk to see how we can add value to your business and become a core member of your supply chain.